Mariposas de Bolivia
Swallowtail's
sitio 58
first update d. 24 april 2009
last update d. 23 april 2017
____________________________________________
Papiloninae/Leptocircini
Kite Swallowtails - Tiger Svalehaler
Papiloninae/Troidini
Cattlehearts -
I dag d. 23 april 2017 søgte jeg i mine ældre harddiske fra 2005 til 2010 hvor jeg fandt denne puppe fra Rio Broncini, Yungas, Bolivia d. 13 januar 2005, hvor Annelie Nielsen begyndte at lide af hedeslag, hun havde det så dårligt, at vi besluttede os dagen efter at køre fra det tropiske klima op til Coroico hvor temperaturen var mere behageligt.

I dag fandt jeg så ud af puppen hører til Svalehalerne Battus slægten, jeg formoder det muligvis kan være Battus belus, da jeg ved flere besøg igennem årene har set denne art sidst d. 22 januar 2010.
Papiloninae/Papilionini
Swallowtails - Svalehaler
Thoas

Swallowtail

, Heraclides thoas

is distributed from USA in Southern Texas where it rarely seen on migration from Mexico

. Central America to Bolivia and Misiones in Northern Argentina. It similar in to

Giant Swallowtail,

Heraclides cresphontes

, and can only be distinguished from it with certainty by close examination of the abdominal tip.

H. cresphontes

however has a more northerly distribution being found from Canada to Northern Colombia.

Thoas

Swallowtail

have another name to;

King Page Swallowtail!
____________________________________________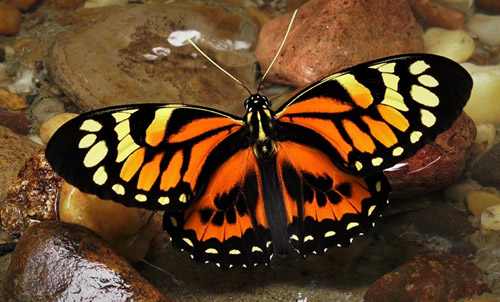 Neyi Swallowtail, Pterourus neyi (Niepelt, 1909).
Tena, Ecuador d. 3 january 2020. Photographer; Henrik Bloch
Pterourus genus from America
Heraclides genus from America
____________________________________________
Mariposas de Bolivia
Enero 2009
por Peter Møllmann y Lars Andersen
____________________________________________
link to Neotropical Butterflies of Will Carter and Kim Garwood, Metalmarks
____________________________________________
link to Esmeralda hotel, Coroico, Yungas