Dagsommerfugle - Dagfjärilar - Butterflies - Mariposas, Papilionoidea;
_______________________
______________________________________________

The Tree og Life web project; Taxonomy list 2009:

______________________________________________

The Danish Butterfly Taxonomy list 2013:

______________________________________________

The German - Italien Butterfly Taxonomy list; 2016 - 2018:

______________________________________________

The English Butterfly; Taxonomy list 2016 - 2018:

______________________________________________

The Phylogenomic Analysis of Butterflies; 2018:

______________________________________________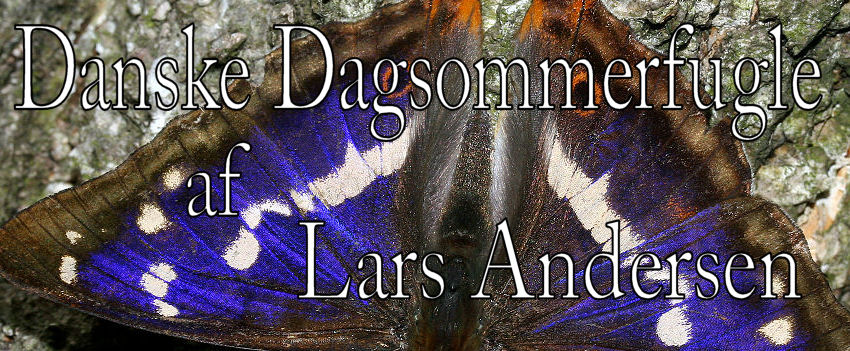 Danske Dagsommerfugle
af
Lars Andersen
Dagsommerfugle (Rhopalocera) er en gruppebetegnelse for syv familier af sommerfugle med takvingefamilien som den største. Arterne er dagaktive i modsætning til de fleste øvrige sommerfugle. De udgør omkring 10% af alle arter af sommerfugle. På verdensplan findes omkring 17.680 arter, hvoraf de fleste lever i troperne, især i Syd- og Mellemamerika og i Sydøstasien. I Danmark findes omkring 64 hjemmehørende arter.Samtlige dagsommerfugle kan kendes på, at de mangler et vingekoblingsapparat mellem for- og bagvinge. Alle øvrige sommerfugle har dette apparat. De fleste Dagsommerfugle indtager deres hvileposition ved, at vingerne klappes sammen over ryggen. De har desuden kølleformede følehorn.

I Danmark findes der 63 til 64 fastboende dagsommerfugle arter med Østlig Takvinge og den indførte Mørk Pletvinge i 2013, + 5 almindelige trækgæster, 3 sjældne trækgæster, 14 arter som tilfældige fund. Samt 14 fastboende arter der er uddøde, eller kun forekommet over en kortere periode her i landet. I alt er der fundet 98 forskellige dagsommerfugle arter i Danmark. + 2 sjældne invasive arter (Vandreblåfugl & Bronzeblåfugl) som også er fundet på friland i Danmark og Sverige. Se invasive dagsommerfugle fundet i Danmark.

Se også udvidet galleri & artsliste 1758-2014 over dagsommerfugle fundet i Danmark.

BUTTERFLIES from SCANDINAVIA
Scandinavia includes Denmark, Norway, Sweden, Finland and the Åland Islands are part of northern Europe. It has been found 142 species butterflies with few immigration species from the south and east. It is very rare that there is migration from the west as the North Sea and the Atlantic is a difficult hurdle to pass. Scandinavia contains several climatic zones, with deciduous forests and grasslands in the south, coniferous forests and swamps midway, mountains and rocky coastlines in the west and tundra in the north where summer is very short and some years absent.
______________________________________________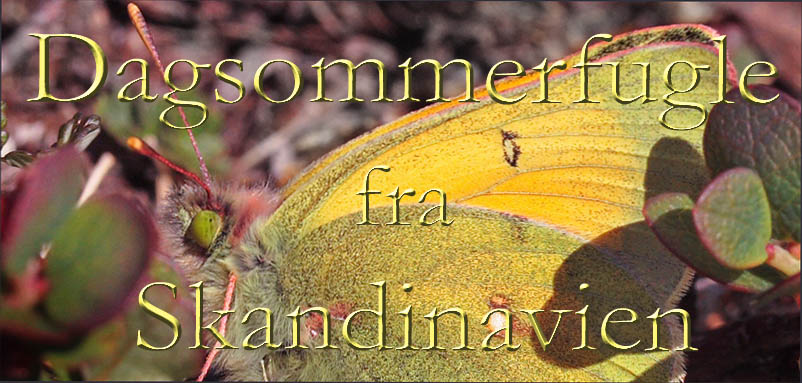 Dagsommerfugle fra Skandinavien med Færøerne, Island & Grønland.
Scandinavien; Denmark, Norway, Sweden, Finland & Ålandsøerne som er en del af det nordlige Europa som vi kalder de Nordiske lande som også omfatter Færøerne & Island. Samt Grønland der er en del af det nordamerikanske kontinent, men geopolitisk er en del af Europa. Der er fundet 142 dagsommerfugle arter med få emigranter som kommer syd og øst fra. Sjældent kommer der vandring fra vest der som regel er shipassisted. Skandinavien omfatter flere klimazoner fra tundra i nord, bjerge, nåleskovene til løvskov i syd. Med kystskrænter i Danmark og klippekyster i Sverige, samt steppe på Øland.
______________________________________________

Palæarktiske Dagsommerfugle Index

______________________________________________

______________________________________________

Butterflies from Bolivia 2004 - 2014
Caranavi region in the northern Yungas on the eastern Andean slopes, in valleys from 400 meters in Guarnay to Caranavi, 600 meters further to Yolosa at Coroico in the 1000 meters has a rich diversity of flora and fauna. The mountains around up to 1400 meters altitude also contains some species which are different than those lower down in the valleys, I suppose there are about 1500 to 1800 species of butterflies with Skippers family in Yungas. I myself have seen approx. half of these species over seven visits from the first time in January 2005, January 2006, February 2007, February 2008, February 2009, January 2010 and January 2012. Through the years I have formed an impression of the various butterfly populations in the area. Aut.; Lars Andersen
______________________________________________
The Nymphalidae Systematics Group
by Niklas Wahlberg
__________________________________________________
__________________________________________________