Rare resident butterflies species in Denmark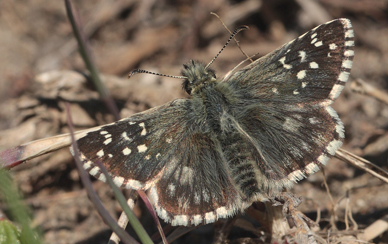 Oberthur's Grizzled Skipper, Pyrgus armoricanus is one of Denmark's rarest butterflies, and is only available on the western Zealand on Røsnæs. Store Vrøj by Saltbæk Vig, Kalkred / Kalundborg Airfield & 2 locations on Vesterlyng.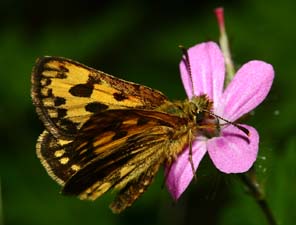 Northern Chequered Skipper, Carterocephalus silvicola located in Hydeskov, Hamburg Skov & Storskov v. Søholt south of Maribo lakes in the Eastern Lolland. It has been more prevalent on Lolland and Falster.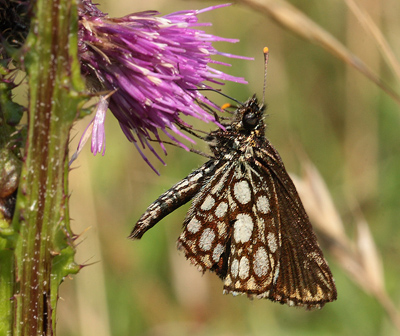 Large Chequered Skipper, Heteropterus morpheus is re-colonized in 2010, now there are two populations in eastern Falster. Perhaps there is also a neglected population at Møn?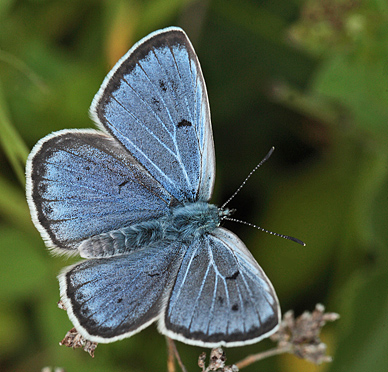 Large Blue, Maculinea arion are now only back on Høvbleget, Møn where there is a nature conservation of the hilly grassland, concerning the population of Large Blue and orchids. There is also trying to re-introduction of Large Blue in Jydeleje, Møn.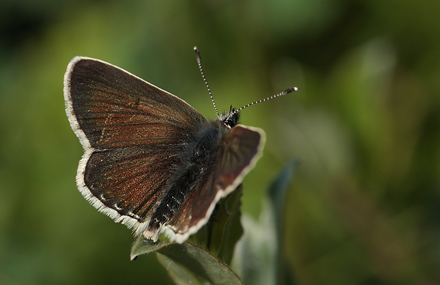 Mountain Argus, Aricia artaxerxes found in northwestern Vendsyssel around Hirtshals, from Lønstrup Strand to Skiveren where it is locally numerous.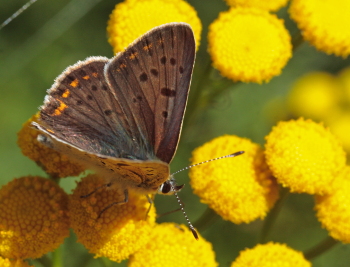 Sooty Copper, Lycaena tityrus was found in Hannenov Skov in 1998, but it has disappeared from again in 2000†. Now, in 1999, discovered a small colony on South Falster which has established several small colonies from Gedesby to Marielyst Dige. Have otherwise disappeared from Denmark where it was in Svanninge Bakker 1986 † of southern Fyn.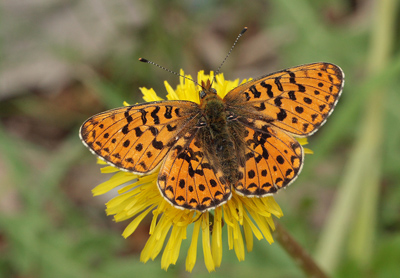 Pearl-bordered Fritillary, Boloria euphrosyne there are still a few populations in the forests around Køge, Fakse, Præstø and Ringsted in Central and South Zealand and Lolland and Falster, approximately a total of 10 -12 localities in 2012. Which at only 2 localities have meta-populations, are very close to disappearing from Denmark!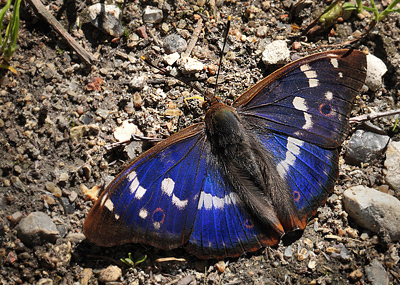 Lesser Purple Emperor, Apatura ilia have immigrated to the Pinseskoven on Vestamager in 2011, where it has since established themselves. There also observed 1 pc he Fasanskoven 2012 and 1 pc. he Amager Fælled in 2013.
---
Immigrants in Denmark since 1995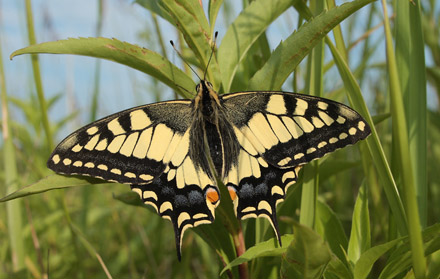 Swallowtail, Papilio machaon seen as a rare visitor in May, June and hot August days when the wind has blown from the south and east. Previously, there it firmly in Denmark, and was common in Jutland. But in the 50s it began to disappear, the channelization of streams and more efficient farming pressed it away, the last permanent population in Denmark disappeared from Filsø at Henne Strand in 1978 †.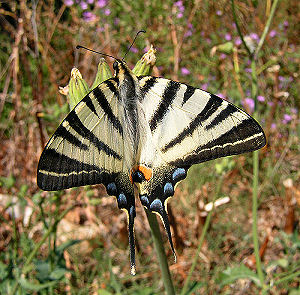 Scarce Swallowtail, Iphiclides podalirius is a relative of Swallowtail, which is seen as a rare visitor in Denmark. Last time on Bøtø Diget, Falster by John Faldborg on August 18, 2012? In 1997, on Bornholm and in 1998 at South Zealand. Otherwise you have to go back 100 years, north of Copenhagen, Hellerup, May 9, 1894, when it might be introduced with div. fruit trees? See article: Sommerfugle flytter mod nord.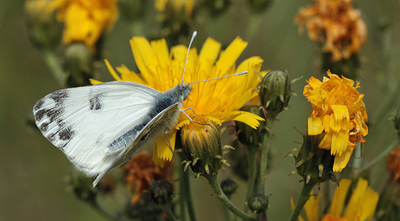 Eastern Bath White, Pontia edusa seen as rare passage migrant in hot August days, can breed in mustard fields and construction sites around. In 2002 and 2011 there was a great migration in southeastern Denmark, where they succeeded in establishing colonies where next year the early summer could see a few newly hatched individuals.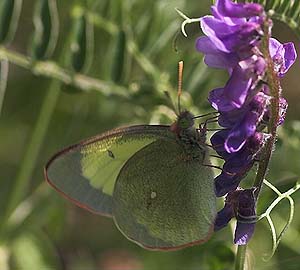 Moorland Clouded Yellow, Colias palaeno seen as a rare visitor in North Jutland and Zealand from Sweden and Norway. But the hot summers, the trait is absent, last seen in numbers in 1992. Where were seen more than 200 butterflies. There's was also in 1993 reported some discoveries. Last seen at Melby Overdrev 1999.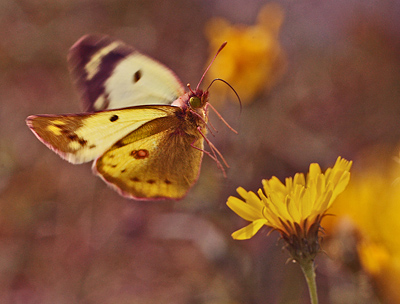 Pale Clouded Yellow, Colias hyale is a migrate south in Denmark, found in lucerne and clover fields, is a rapid flying, soon to flower, however late in the day more calm. The male is known to the yellow in flight, the female is yellow-white. In 2009 there was a great migration in southeastern Denmark.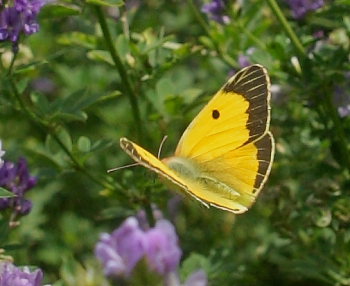 Clouded Yellow, Colias crocea seen as rare passage migrant in hot August days, can breed in lucerne fields around the southeastern Denmark. Since 2000, almost every year has been higher level of immigration in Denmark.
Geranium Bronze, Cacyreus marshalli is found on 11th July 2011 at Bøtø Dige by Klaus Hermansen. A larval gnawing and larval is found in Aarhus V, Jutland by Svend Kaaber 25th August 2013. Is a South African who was introduced to Mallorca with a lot Geraniums to horticulture in 1987, since it has spread all over the island. In 1991 it was found in a garden in Brussels, Belgium, in 1992 it was found in Spain, in Rome, Italy in 1996 and the South of France 1997, Sussex, England 1997. It is under observation status in Denmark because every year in neighboring countries are found in the open air in the gardens of geraniums.
Long-Tailed Blue, Lampides boeticus (Linnaeus, 1767) found in temperate regions of the world. Can fly from southern Europe with Germany and England. Often seen flying in lucerne/alfalfa fields, and can be found as a pest of cultivated peas. Found in Denmark since March 2006 in some imported peas from Kenya at the local grocer by Steffen Johansen, Værløse. Later many finds in mangetout peas from the Coop Supermarked like Kvivkly and Brugsen also in 2012. It is in Denmark under observation status because each year in neighboring countries are found as from England where it may have established themselves.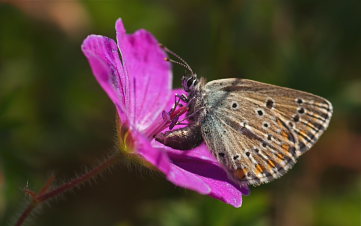 Geranium Argus, Eumedonia eumedon is found at Blåvand north of Esbjerg in 1997. It is possible that there may have been some overlooked populations in Jutland? Its feed plant Bloody Cranesbill is common in several places!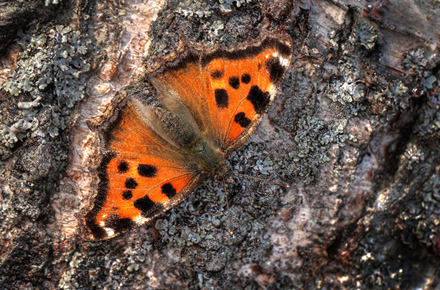 Scarce Tortoiseshell, Nymphalis xanthomelas is seen as a rare visitor in eastern Denmark since 2003 and 2004, last seen in 2011, 2012 & 2013. Similar to be confused Large Tortoiseshell where Scarce Tortoiseshell has more jagged blade shape and cleaner red base color on top. Wider Black hem that is less sharply defined inward. As well as brighter yellow hairy legs, which can be seen when you are close enough! Its feed plant is Elm and Willow.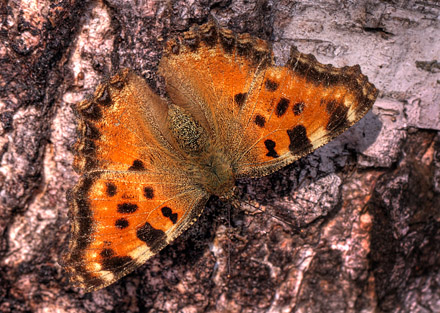 Large Tortoiseshell, Nymphalis polychloros seen as rare migrating from Sweden during hot summers. Previously, the permanent in eastern Denmark, where it lived in the many cherry plantations in North Zealand, Falster and Lolland, but disappeared in the 80s †. In rare cases on Bornholm in 2004, there have been laying eggs!. Its feed plant is Elm, Willow, Aspen, Bird Cherry, Pear and Apple. Last seen in 2013.
Red Admiral, Vanessa atalanta seen as normal migratory guest in Denmark, the first arriving in May, and they reproduce in Denmark, which hatch from July to August. In autumn they fly south to the countries around the Mediterranean Sea, where the mild winter months, no freezing. In warm winter months as 2006/2007, the through the winter in Denmark. Where on sunny days can be seen on træes stems where they enjoy the low winter sun.
Painted Lady, Vanessa cardui viewed in Denmark as regular immigrants from the south, with varying frequency, in 2003, 2006 and 2009, the common everywhere. They are seen flying as high up as in Lapland and northern Norway. In 2011 and 2012 there were only small immigration in Denmark. In 2013 there was a normal migration in southeastern Denmark. In autumn they fly south down to the Mediterranean region and northwestern Africa in the Atlas mountains valleys.
Pallas's Fritillary, Argynnis laodice first danish discoveries of this large fritillary were in Ølene, Bornholm 8th August 1986 by Fritz Raae and No 2 from Kroghage, Falster 22th August 1997 by Jan Fischer Rasmussen. And the third finding was on the eastern Bornholm 5 females in August 2003 by Per Falck and Brian?.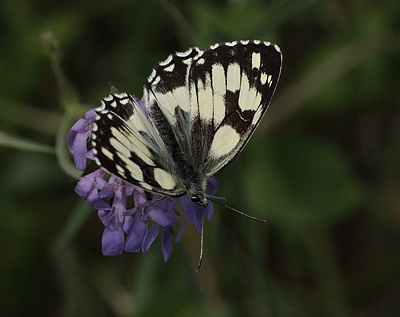 Marbled White, Melanargia galathea is found occasionally on Langeland, 1996 & Falster in 1997. In 2012, found a population at a rest area in Holstein in northern Germany along the highway 65 km south of the Danish border; Skakbræt?
Butterflies invade to Denmark from the south with the the warmer climate, article from DMI.